Shopping Cart
Your Cart is Empty
There was an error with PayPal
Click here to try again
Thank you for your business!
You should be receiving an order confirmation from Paypal shortly.
Exit Shopping Cart
Bringing the Past into the Present, Our Gift to the Future
New Discovery for Previously Researched Ancestor
When a new discovery was found from a long ago researched ancestor, a genealogical happy dance was certainly in order.  However, it emphasized that revisiting those ancestors, who we feel have been adequately researched, is vital with today's ever changing available on-line data.  A recent DNA test match revealed at least two possible shared ancestral lineages because of two small distinct clusters of shared DNA.  One pointed to my husband's Bradshaw lineage which had been researched in depth over 10 years ago. 
According to the passed down family history written by elderly aunts in the early 1900s, Robert Bradshaw was born about 1777 in Pennsylvania where his father Thomas Bradshaw had served in the Revolutionary War. Thomas was reported to be from England and after traveling through the wilds of Virginia, settled in Kentucky where his son Robert married an unknown James beginning his large family.  Prior to 1820, Robert moved his family to Ohio and married for a second time to Mary Meyers who was the mother of my husband's ancestor Thomas W. Bradshaw.  As with many of our passed down family histories, these "facts" were not backed by research but by the family's oral stories.  Research pursued over several years and included a visit to family cemetery in Perry County, Ohio.  Driving the car through a cow pasture to reach the small fenced burial grounds located on the knoll above the farmhouse was quite the adventure.   Robert's father was and still is a brick wall. The Kentucky portion of the history could be proven by birth locations of some of Robert's children but where in Kentucky remained elusive.
Fast forward to 2017.   In exploring the DNA match's family tree on Ancestry.com, the Bradshaw name was a beacon of light.  One of the small shared DNA segments was also shared with my husband's first cousin, implying that one of the shared common ancestors would be found somewhere on the Bradshaw side of their family.  The match's Bradshaw line was from Sutton, Cambridgeshire, England and they had moved to Australia before 1840.  Exploring Ancestry.com for a possible link to Thomas Bradshaw in the same area in England only produced some possible clues, no answers.  However one of those little green shakey leaves was displayed on Robert Bradshaw's profile.  Hmmm, this is new! 
Clicking on the shakey leaf provided a link to the War of 1812 Pension Application Index files and then to a copy of the index card for the correct Robert Bradshaw.  Remember that family history?  There had been no mention of the War of 1812 for Grandfather Bradshaw.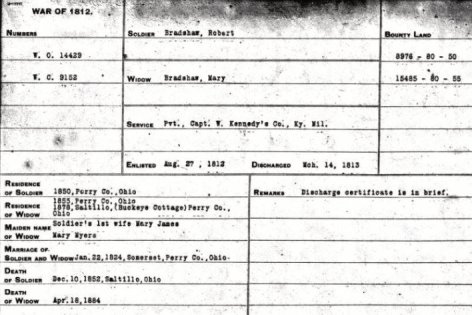 Not only did this establish his military service, it provided other new information.   He had been granted bounty land and his first wife's full name was listed!  But what else could be found in the actual pension file?
Next stop, Fold3.com to determine whether the entire pension file had been digitized and thankfully it was.  Fold3.com, a paid subscription like Ancestry.com, provided even more information including his actual place of enlistment on 27 Aug 1812 – Paris, Bourbon County, Kentucky.  This great find supported a previously discovered 1810 Stoner, Bourbon County, Kentucky census record for a Robt Bradshaw with two males under the age of 10 plus a male and female between  ages 26 and 44.   Will a closer look at Bourbon County, Kentucky lead to new discoveries?  The search is on!
/